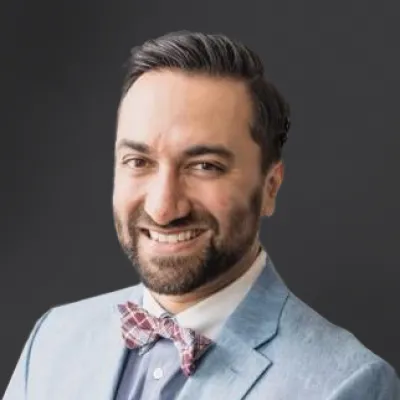 Neil Chatterji
Senior Research Analyst
Sectors
Medical Technology

Digital Health
Research Coverage

Accuray Incorporated (ARAY)

Augmedix Inc. (AUGX)

Butterfly Network, Inc. (BFLY)

CareCloud (CCLD),
ClearPoint Neuro (CLPT)
Establishment Labs Holdings, Inc. (ESTA)

Hyperfine, Inc. (HYPR)

LifeMD, Inc. (LFMD)
OptimizeRx Corporation (OPRX)
Paragon 28, Inc. (FNA)

PROCEPT BioRobotics Corporation (PRCT)

Silk Road Medical (SILK)
Stereotaxis, Inc. (STXS)

Biography
Neil Chatterji is a Senior Equity Research Analyst in the Healthcare Research Group with B. Riley Securities responsible for coverage of Medical Technology and Digital Health. He has almost a decade of experience in equity research with a focus in healthcare. He joined the healthcare equity research team in 2022 to focus on coverage of emerging SMiD-cap medical device and digital health companies with differentiated technologies.
Prior to B. Riley, he mostly recently was at Cowen as a Vice President in research covering Medical Devices, covering all cap companies focused on a range of technologies including for cardiology, orthopedics, and robotics / digital health. He has also held research positions at BMO (MedTech), Sidoti (Digital Health / HCIT), and Craig-Hallum, and in investor relations at AbbVie. Prior to his roles in equity research, he worked in healthcare strategy for providers and payors and in hospital administration.
Mr. Chatterji is a member of the Leadership Board for the Applied Security Analysis Program at the University of Madison-Wisconsin, and a philanthropic advocate for the Colorectal Cancer Alliance. He received his MBA from the University of Madison-Wisconsin, participating in the esteemed Applied Security Analysis Program, an MHA in healthcare management from the George Washington University, and a B.S. in business administration in finance and economics from the Ohio State University.