Investment Banking & Capital Markets
Middle-markets focused investment bank. Quality research platform. World class distribution.
As a leading full-service investment bank, we provide a comprehensive set of corporate finance, advisory, research, and sales and trading services to corporate, institutional and high net worth clients. Our clients and partners benefit from our extensive network and expertise and the resources of an end-to-end solutions platform.
We began by successfully targeting small-capitalization, California-based companies and have earned a reputation for providing proprietary, unbiased and often contrarian equity research coverage of companies that are under-followed or misunderstood by Wall Street.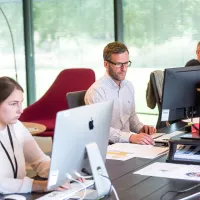 150+
investment banking professionals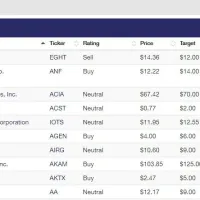 350+
companies covered by equity research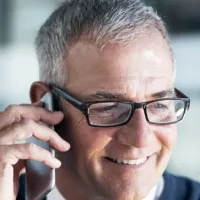 1,000+
institutional sales & trading clients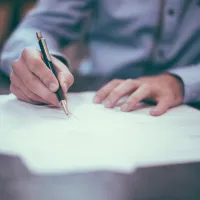 #1
agent for at-the-market issuances
Investment Banking & Capital Markets

"We are excited to partner with B. Riley. The team is experienced and will help us take the next steps in executing our plan. This financing will help fuel growth as both BIGtoken.com and SRAXir.com are gaining traction in their goals to be the leaders in their respective data businesses."
Christopher Miglino, Founder and CEO of SRAX
"The addition of American Freight provides meaningful scale to our existing business and we could not be more pleased with the performance of the entire B. Riley team in making this acquisition an efficient and seamless process."
Brian Kahn, President and CEO of Franchise Group
"B. Riley Securities did a remarkable job executing Legacy's IPO in an extremely difficult and volatile market environment in mid-December. Their investment banking team gave us thoughtful and timely advice through the process, and I was very impressed with the quality of investors introduced to us by their sales force."

Curt Hodgson, Co-Chief Executive Officer of Legacy Housing
"B. Riley Securities demonstrated their in-depth knowledge of our business and industry expertise throughout the entire process. Their extensive relationships across the broadband industry ensured that all qualified buyers were approached, and the best buyers were identified. We were very pleased with the outcome of the transactions."
Chris Hilliard, CEO of USA Communications
"The B. Riley Securities team played a critical role in advising and guiding us through the complexities of a corporate sale process. They were the clear choice to represent Christy's and I am exceptionally pleased with the result."
Jon Christy, Chief Executive of T. Christy Enterprises
"The B. Riley team played a critical role in completing this deal. Their transactional insights, process leadership and experience quickly became evident and their execution was flawless. We are exceptionally pleased with the acquisition and B. Riley Securities' post-closing assistance and guidance in integrating Lambeth Groves into the Perricone Juices organization."
Bob Rozvar, Chief Executive of Perricone Juices
"B. Riley Securities distinguished themselves as leading M&A experts in managing the unique characteristics and confidential nature of privately-held, family-owned businesses. The B. Riley team demonstrated extensive knowledge of our business and were fully committed to this process from day one through the closing of the transaction."
Don West, Co-Founder and former President of HOB
"We are grateful to Dan Shribman, Bryant Riley and the entire B. Riley Financial team for their partnership and look forward to sharing our progress with our stockholders as we continue to deliver on our growth strategy. Our strengthened capital structure will further support organic growth as well as robust opportunities in our acquisition pipeline."
Ryan Greenawalt, Chief Executive Officer and Chairman of the Board of Directors of Alta Equipment Holdings, Inc.
"We could not be more pleased with the work of B. Riley Securities throughout this process. Their team demonstrated expertise in navigating the complexities of our transactions, as well as deep knowledge of SPACs and the real estate industry. We are grateful to B. Riley Securities and the commitment of its senior leadership in its support to help establish a long-term oriented shareholder base for Broadmark Realty."
Steve Haggerty, Managing Partner of Trinity Investments and Director of Broadmark Realty
"We were pleased to work with B. Riley Securities on the sale of PCM to Insight. The team demonstrated deep knowledge of our business and helped guide us through this significant transaction. The combination of Insight and PCM not only allows us to provide greater value to our clients, but also to our shareholders, and we look forward to the opportunities ahead."
Frank Khulusi, Chairman and Chief Executive Officer of PCM
"Graco represents the perfect partner for E.V. Roberts. This is a great opportunity for two leading brands to leverage each other's respective strengths and offer our customers and vendors an expanded set of innovative solutions. The B. Riley team played a critical role in securing the right partner and structuring a transaction that successfully maximized shareholder value. They were the clear choice and I am exceptionally pleased with the outcome."
Ron Cloud, Chief Executive Officer of E.V. Roberts
"On behalf of Perricone Juices, we would like to express our sincere gratitude to the United Juice Board of Directors, the entire Lambeth Groves team, and Glenn Adams at Holland and Knight for working with us on this transaction. We would also like to thank B. Riley associates who served as out investment bankers on this project."
Joe Perricone of Perricone Juices
"General Photonics falls right into the center of what Luna does, and adds greater scale with complementary products and expanded exposure to various end markets, particularly in Asia. This is yet another significant step for us as we continue to focus our business on our core strengths in fiber optic-based test and measurement technologies, and we were very pleased with the B. Riley Securities team's support in helping us to complete this important transaction."
Scott Graeff, President and Chief Executive Officer of Luna Innovations
"The B. Riley Securities team worked diligently throughout this process and were critical to the successful outcome we achieved. They coordinated and communicated with our legal and accounting advisors, as well as negotiated and structured a mutually beneficial structure for the shareholders and Sverica. This was our first time through this type of process and we are incredibly pleased with the outcome B. Riley Securities delivered."
David Regn, Co-Founder of Stream Companies
Perry Mandarino and his team at B. Riley have been extremely proactive and supportive to the CarePoint group as its hospitals become the epicenter in the war against the COVID-19 pandemic. Perry has reached out to me on his own accord and arranged for the hospitals to get PPE and ventilators which are needed so badly right now. These gestures are even more valuable than the monetary support that kept the Christ Hospital Medical Center and Bayonne Medical Center open to face this challenge. I shudder to think if the hospitals without B. Riley help had shut down before this unforeseen pandemic the communities at Bayonne and Jersey City would have been devastated as the other hospitals just do not have the capacity to deal with this.
Achintya Moulick MD, MBA, M.Ch

"We are grateful for the diligent efforts of B. Riley Securities and the other joint book runners and managers to successfully complete these significant transactions for the Company."

Scott Slater, Cadiz CEO and President