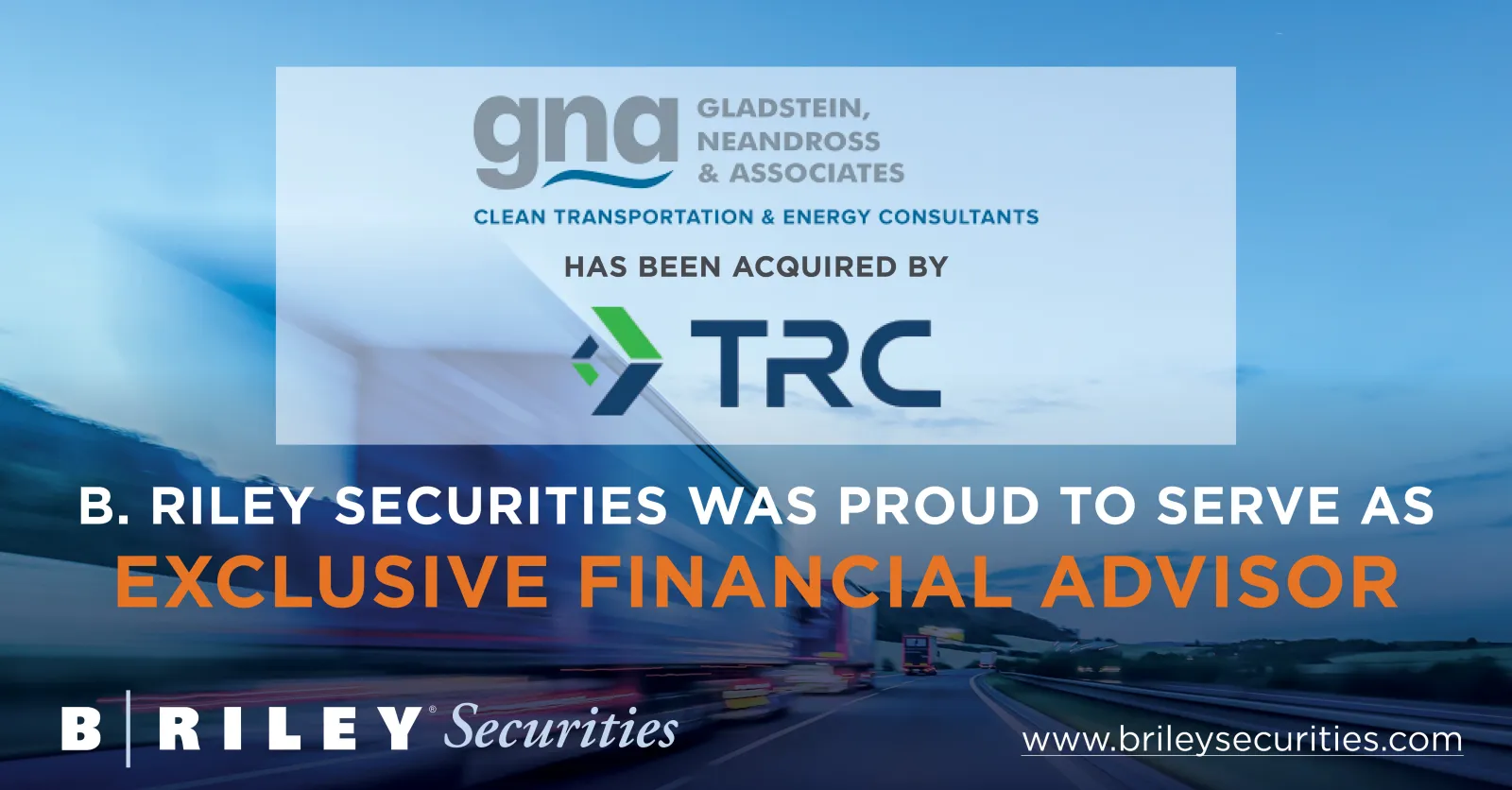 LOS ANGELES, June 7, 2023 - B. Riley Securities, Inc. ("B. Riley"), a leading middle market investment bank, is pleased to have served as exclusive financial advisor to Gladstein, Neandross & Associates ("GNA" or "the Company"), in connection with its sale to TRC Companies, Inc. ("TRC"), a portfolio company of Warburg Pincus. As a leading North American consulting firm specializing in low- and zero-emission transportation technologies, infrastructure, and ultra-low carbon fuels for commercial transportation, GNA adds to TRC's climate infrastructure with sustainable transportation solutions.

B. Riley was engaged by GNA to negotiate terms of the transaction and guide the Company through closing due diligence to an ultimate sale. Over the past 30 years, GNA has managed the design and development of more clean fleet deployment projects than any other firm in North America, as well as facilitated development of some of the largest alternative fuel corridors in the world. In addition to its leading consulting practice, GNA operates a full-service creative services group to provide expert marketing and communications services to its clients in the clean transportation space, and it produces industry-leading educational events and tradeshows, including its flagship event, the Advanced Clean Transportation (ACT) Expo.

B. Riley's deal team was led by Nishen Radia and included John Matthews and Austin Pooley. Click here to read more about the transaction.

About B. Riley Securities
B. Riley has served as a preeminent fixture in small and middle market brokerage and investment banking for over 25 years. We provide a full suite of investment banking and capital markets services to companies, financial sponsors, and institutional investors across all industry verticals. Investment banking services include initial, secondary and follow-on offerings, institutional private placements, merger and acquisition (M&A) advisory, SPACs, corporate restructuring and recapitalization. Widely recognized for our thematic proprietary equity research, clients benefit from B. Riley's extensive network, industry expertise, and proven execution capabilities of our end-to-end financial services platform. Please see disclosures about B. Riley Securities Research here. B. Riley Securities is a subsidiary of B. Riley Financial (Nasdaq: RILY). For more information, visit www.brileysecurities.com.