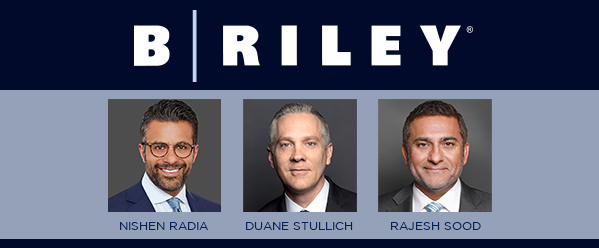 To our valued clients, partners, and friends,
With the new year comes new beginnings, and we are excited to announce a new era for our team:
FocalPoint is now B. Riley Securities
A year ago we announced our combination with B. Riley. Today marks the culmination of the work we have put in to strategically align our businesses and create a stronger platform for our clients and our team members. While our established leadership in M&A and private capital advisory remains the same, our teams are now enhanced by a best-in-class platform, and we are thrilled to rebrand as B. Riley Securities.
It's a new look for the same team you've trusted to handle your transactions with speed, accuracy, and quality execution. And together, as one firm, B. Riley Securities is committed to being your partner for middle market investment banking.
Reflecting on our first year as part of the B. Riley family, our clients have benefited from our increased scale, greater depth of industry expertise, and expanded capabilities to draw from across the broader B. Riley Financial platform. At the same time, our teammates have benefited from greater opportunities to grow and develop as bankers, and more ways to serve our clients.

With a strong cultural fit, core values and an entrepreneurial spirit shared by our new partners, our vision and relentless client advocacy are one and the same - and now enhanced by our collective ability to offer a diverse suite of capabilities across M&A, restructuring advisory and corporate finance, supported by a market-leading equity and debt capital markets franchise. The combined power of our people and resources enhances our ability to serve our clients, and we could not be more excited for what's ahead in 2023!

Please take a moment to visit our website and follow us on LinkedIn. On behalf of our team and the entire B. Riley family, we thank you for your continued support.