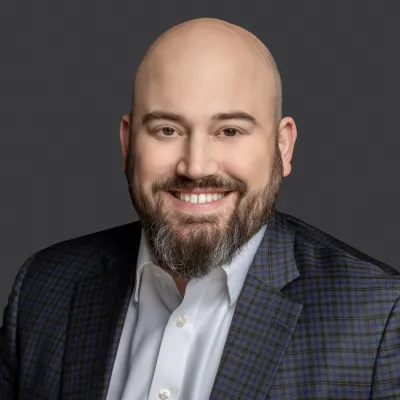 Jimmy Baker
President &
Head of Capital Markets, B. Riley Securities
AREAS OF EXPERTISE

Capital Markets
Capital Management
Equity Research
Hedge Funds
Institutional Sales
Investment Banking
Jimmy Baker currently serves as President and Head of Capital Markets at B. Riley Securities. Beginning in 2017, Baker served as our Executive Vice President, Brokerage. In this prior capacity, Baker was instrumental in the transformative combination of our predecessors, B. Riley & Co. and FBR Capital Markets. Among other responsibilities, Baker was tasked with aligning equity research coverage, integrating and expanding institutional sales distribution, and maintaining our capital markets integrity. Baker quickly became a recognized leader in capital formation, orchestrating many complex or creative capital raises on behalf of companies seeking to raise public or pre-IPO capital. Baker joined B. Riley in 2010, initially as a member of its Equity Research team, serving as Managing Director and Associate Director of Equity Research starting in 2015. During his time in Equity Research, Baker was frequently lauded by independent third parties for the performance of his investment recommendations, including being named one of the top 10 overall stock pickers in the United States, irrespective of industry coverage, by Thomson Reuters/Starmine.
From 2008-10, Baker was with Kennedy Capital Management, an employee owned investment advisor with over $4B in AUM primarily focused on small and mid cap equities. Baker previously consulted for the global multi-strategy hedge fund, Lionhart. Baker began his career in a rotational development program at Marine Audio Engineering & Sales.
Baker earned his B.A., cum laude, in Business Administration with an emphasis in Finance from Lindenwood University.

B. Riley Securities provides a full suite of investment banking, corporate finance, advisory, research, and sales and trading services. Investment banking services include initial, secondary and follow-on offerings, institutional private placements, merger and acquisition (M&A) advisory, SPACs, corporate restructuring and recapitalization. B. Riley is nationally recognized and highly ranked for its proprietary small-cap equity research. B. Riley Securities formerly operated as B. Riley FBR following the merger of B. Riley & Co. and FBR & Co.