Award-Winning Equity Research
The equity research team has consistently been recognized for its stock picking, which is the heritage and backbone of the firm. The team actively covers over 400 companies with a focus on small- to mid-cap companies that are underfollowed or misunderstood by Wall Street. Our equity research analysts implement an interactive process performing extensive due diligence on companies until the analyst develops the knowledge base and understanding of the company and the industry to make a recommendation. Our equity research analysts continuously monitor industry developments and communicate with the management, competitors, suppliers and customers of the companies we follow, regularly communicating our findings through our research updates.
B. Riley Securities has migrated its research library to the BlueMatrix® system.
Investment Banking
Capabilities
Industry Coverage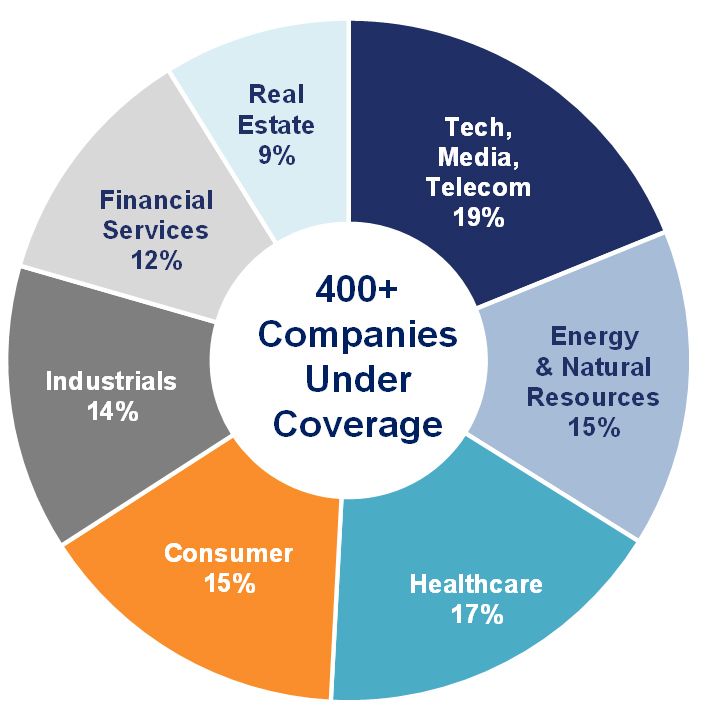 Equity Research Capabilities
Equity Research Coverage
Company
Ticker
Equity Research Analyst
Sector
3D Systems Corporation
DDD

Sherbetchyan, Sarkis
Advanced Manufacturing
8x8, Inc.
EGHT
Nichols, CFA, Josh
Communications
Abercrombie & Fitch Co.
ANF
Anderson, CFA, Susan
Specialty Retail & Apparel
Acacia Communications, Inc.
ACIA
Kang, Dave

Optical Components
Acasti Pharma Inc.
ACST
Mamtani, Mayank
BioPharmaceuticals
Agenus, Inc.
AGEN
Mamtani, Mayank
Biotech
Airgain, Inc.
AIRG
Ellis, Craig A.
Electronic Components
Akamai Technologies, Inc.
AKAM
Krowl, Lee
Internet
Akari Therapeutics Plc
AKTX
Mamtani, Mayank
Biotech
Alcoa Corporation
AA
Pipes, CFA, Lucas N.
Metals & Mining
Allena Pharmaceuticals, Inc.
ALNA
Mamtani, Mayank
Biotech
Alliance Resource Partners, L.P.
ARLP
Pipes, CFA, Lucas N.
Coal
Alpha & Omega Semiconductor
AOLS
Ellis, Craig A.
Semiconductor
Alpine Income Property Trust, Inc.
PINE

Kucera, Craig
Equity REITs
Alta Equipment Group Inc.
ALTG
Rygiel, Alex
Heavy Equipment
Altisource Portfolio Solutions S.A.
ASPS
Sharma, Raj
Financial Technology
AMC Entertainment Holdings, Inc.
AMC
Wold, CFA, Eric
Media & Entertainment
Ameresco, Inc.
AMRC
Souther, CFA, Christopher
Sustainable Energy & Technology

American Eagle Outfitters, Inc.
AEO
Anderson, CFA, Susan
Specialty Retail & Apparel
American Equity Investment Life Hldg.
AEL
Binner, Randy
Insurance
American Finance Trust, Inc.
AFIN
Maher, Bryan
Equity REITs
American Homes 4 Rent
AMH
Rygiel, Alex

Single-Family REITs
American Software, Inc.
AMSWA
Cummins, Zach
Software
AMERISAFE, Inc.

AMSF
Binner, Randy
Insurance
Anixa Biosciences, Inc.
ANIX
D'Silva, Andrew
Biotech
Anterix Inc.
ATEX
Crawford, Mike
Communications
Apple Hospitality REIT, Inc.
APLE
Maher, Bryan
Lodging
Applied Materials, Inc.
AMAT
Ellis, Craig A.
Semi Capital Equipment
Applied Optoelectronics, Inc.
AAOI
Kang, Dave
Optical Components
Arbutus Biopharma Corporation
ABUS
Mamtani, Mayank
Biotech
Arch Resources, Inc.
ARCH
Pipes, CFA, Lucas N.
Coal
Archrock, Inc.
AROC
Curran, CFA, Thomas
Oilfield Services
Arcturus Therapeutics Holdings, Inc.
ARCT
Mamtani, Mayank
Biotech
Arrowhead Pharmaceuticals, Inc.
ARWR
Mamtani, Mayank
Biotech
Ashford Hospitality Trust, Inc.
AHT
Maher, Bryan
Lodging
Ashford Inc.
AINC
Maher, Bryan
Lodging
Aspen Aerogels, Inc.
ASPN
Curran, CFA, Thomas
Oilfield Services
Aspen Group, Inc.
ASPU
Sharma, Raj
Education Services
AudioEye, Inc.
AEYE
Cummins, Zach
Software
AutoWeb, Inc.
AUTO
Krowl, Lee
Internet
Avid Technology, Inc.
AVID
Nichols, CFA, Josh

Software
Axcelis Technologies, Inc.
ACLS
Ellis, Craig A.
Semi Capital Equipment
Axos Financial, Inc.
AX
Moss, Steve
Banks & Thrifts
AXT, Inc.
AXTI
Kang, Dave
Optical Components
The AZEK Company Inc.
AZEK
Rygiel, Alex
Building Materials
Banc of California, Inc.
BANC
Moss, Steve
Banks & Thrifts
Bank of Princeton
BPRN
Moss, Steve
Banks & Thrifts
BayCom Corp
BCML
Moss, Steve
Banks & Thrifts
BBX Capital Corporation
BBX
Crawford, Mike
Diversified Holding Company
Benefytt Technologies, Inc.
BYFT
Binner, Randy

Insurance
BioLife Solutions, Inc.
BLFS
Wiesenberger, CFA, Marc
Biotech

Biomerica, Inc.
BMRA
D'Silva, Andrew
Medical Technology
BlueLinx Holdings Inc.
BXC
Rygiel, Alex
Building Materials
Bluerock Residential Growth REIT, Inc.
BRG
Kucera, Craig
Equity REITs
BMC Stock Holdings, Inc.
BMCH
Rygiel, Alex
Building Materials
Braemar Hotels & Resorts, Inc.
BHR
Maher, Bryan
Lodging
Bridgewater Bancshares, Inc.
BWB
Moss, Steve
Banks & Thrifts
Brightcove, Inc.
BCOV
Krowl, Lee
Internet
Broadmark Realty Capital Inc.
BRMK
Hayes, Tim
Specialty Finance
Brooks Automation, Inc.
BRKS
Ellis, Craig A.
Semi Capital Equipment
BRT Apartments Corp.
BRT
Kucera, Craig
Equity REITs
Brunswick Corporation
BC
Wold, CFA, Eric
Outdoor Leisure
Builders FirstSource, Inc.
BLDR
Rygiel, Alex
Building Materials
Cable One, Inc.
CABO
Silver, CFA, Zack
Communications
Cadiz Inc.
CDZI
Crawford, Mike
Utilities
Callaway Golf Company
ELY
Anderson, CFA, Susan
Outdoor Leisure
Camtek Ltd.
CAMT
Ellis, Craig A.
Semi Capital Equipment
Capital Product Partners L.P.
CPLP
Burke, Liam
Shipping
Capital Southwest Corporation
CSWC
Hayes, Tim
Specialty Finance
Cars.com, Inc.
CARS
Krowl, Lee
Internet
Carter's, Inc.
CRI
Anderson, CFA, Susan
Specialty Retail & Apparel
Carvana Co.
CVNA
Krowl, Lee
Internet
CatchMark Timber Trust, Inc.
CTT
Kucera, Craig
Equity REITs
Cedar Fair, L.P.
FUN
Wold, CFA, Eric
Outdoor Leisure
Cedar Realty Trust, Inc.
CDR
Kucera, Craig
Equity REITs
Celsius Holdings, Inc.
CELH
Van Sinderen, Jeff
Food & Beverage
Century Aluminum Company
CENX
Pipes, CFA, Lucas N.
Metals & Mining
Century Communities, Inc.
CCS
Rygiel, Alex
Homebuilders
Champion Iron Ltd.
CIA-CA
Pipes, CFA, Lucas N.
Metals & Mining
ChannelAdvisor Corporation
ECOM
Cummins, Zach
Software
Chatham Lodging Trust
CLDT
Maher, Bryan
Lodging
Cherry Hill Mortgage Investment
CHMI
Hayes, Tim
Specialty Finance
Chico's FAS, Inc.
CHS
Anderson, CFA, Susan
Specialty Retail & Apparel
The Children's Place, Inc.
PLCE
Anderson, CFA, Susan
Specialty Retail & Apparel
ChromaDex Corporation
CDXC
Van Sinderen, Jeff
Food & Beverage
Ciena Corporation
CIEN
Kang, Dave
Communications
Cinemark Holdings, Inc.
CNK
Wold, CFA, Eric
Media & Entertainment
City Office REIT, Inc.
CIO
Kucera, Craig
Equity REITs
Clarivate Analytics Plc
CCC
Cummins, Zach
Information & Technology Services
ClearPoint Neuro, Inc.
CLPT
D'Silva, Andrew
Medical Technology
Cleveland-Cliffs Inc.
CLF
Pipes, CFA, Lucas N.
Metals & Mining
Clipper Realty Inc.
CLPR
Kucera, Craig
Equity REITs
CNO Financial Group, Inc.
CNO
Binner, Randy
Insurance
Cohu, Inc.
COHU
Ellis, Craig A.
Semi Capital Equipment
Colony Capital, Inc.
CLNY
Binner, Randy
Asset Managers
Colony Credit Real Estate, Inc.
CLNC
Binner, Randy
Asset Managers
Comerica Incorporated
CMA
Moss, Steve
Banks & Thrifts
Community Healthcare Trust Inc.
CHCT
Maher, Bryan
Healthcare REITs
Concrete Pumping Holdings, Inc.
BBCP
Rygiel, Alex
Engineering & Construction
Condor Hospitality Trust, Inc.
CDOR
Maher, Bryan
Lodging
CONSOL Coal Resources LP
CCR
Pipes, CFA, Lucas N.
Coal
CONSOL Energy Inc.
CEIX
Pipes, CFA, Lucas N.
Coal
Contura Energy, Inc.
CTRA
Pipes, CFA, Lucas N.
Coal
CorMedix Inc.
CRMD
D'Silva, Andrew
Biotech
CoStar Group, Inc.
CSGP
Buck, Scott
Information & Technology Services
Crawford United Corporation
CRAWA
Sherbetchyan, Sarkis
Producer Manufacturing
Crocs, Inc.
CROX
Anderson, CFA, Susan
Specialty Retail & Apparel
Cryoport, Inc.
CYRX
D'Silva, Andrew
Service & Technology
CSG Systems International, Inc.
CSGS
Silver, CFA, Zack
Communications
CTO Realty Growth, Inc.
CTO
Kucera, Craig
Equity REITs
Cumberland Pharmaceuticals Inc.
CPIX
D'Silva, Andrew
Specialty Pharmaceuticals
Cumulus Media, Inc.
CMLS
Silver, CFA, Zack
Media & Entertainment
Customers Bancorp, Inc.
CUBI
Moss, Steve
Banks & Thrifts
CymaBay Therapeutics, Inc.
CBAY
Mamtani, Mayank
Biotech
Cypress Environmental Partners, L.P.
CELP
Curran, CFA, Thomas
Master Limited Partnerships
CytoSorbents Corporation
CTSO
D'Silva, Andrew
Medical Technology
DASAN Zhone Solutions, Inc.
DZSI
Kang, Dave
Communications
DHI Group, Inc.
DHX
Anderson, CFA, Kara
Internet
Diamond S Shipping Inc.
DSSI
Burke, Liam
Shipping
Dicerna Pharmaceuticals, Inc.
DRNA
Mamtani, Mayank
Biotech
Digital Turbine, Inc.
APPS
Krowl, Lee
Internet
Diversified Healthcare Trust
DHC
Maher, Bryan
Healthcare REITs
Dolby Laboratories, Inc.
DLB
Wold, CFA, Eric
Media & Entertainment
Donnelley Financial Solutions, Inc.
DFIN
Sharma, Raj
Financial Technology
Dril-Quip, Inc.
DRQ
Curran, CFA, Thomas
Oilfield Services
Drive Shack, Inc.
DS
Wold, CFA, Eric
Outdoor Leisure
Ducommun Incorporated
DCO
Crawford, Mike
Aerospace & Defense
DURECT Corporation
DRRX
Mamtani, Mayank
Biotech
Dycom Industries, Inc.
DY
Rygiel, Alex
Specialty Contracting
Dynagas LNG Partners LP
DLNG
Burke, Liam
Shipping
Eagle Bulk Shipping Inc.
EGLE
Burke, Liam
Shipping
Eagle Point Credit Company, Inc.
ECC
Binner, Randy
Asset Managers
EDAP TMS SA
EDAP
D'Silva, Andrew
Medical Technology
Ellington Financial Inc.
EFC
Hayes, Tim
Specialty Finance
EMCORE Corporation
EMKR
Kang, Dave
Optical Components
Endeavour Silver Corp.
EXK
Ellis, Craig A.
Precious Metals & Emerging Miners
Energy Recovery, Inc.
ERII
Curran, CFA, Thomas
Oilfield Services
Enphase Energy, Inc.
ENPH
Kang, Dave
Sustainable Energy & Technology
Entercom Communications Corp.
ETM
Silver, CFA, Zack

Media & Entertainment

Enthusiast Gaming Holdings, Inc.
EGLX-CA
Crawford, Mike

Gaming
Eton Pharmaceuticals, Inc.
ETON
D'Silva, Andrew
Specialty Pharmaceuticals
The ExOne Company
XONE
Sherbetchyan, Sarkis
Advanced Manufacturing
Express, Inc.
EXPR
Anderson, CFA, Susan
Specialty Retail & Apparel
Extreme Networks, Inc.
EXTR
Kang, Dave
Communications
EyePoint Pharmaceuticals, Inc.
EYPT
D'Silva, Andrew
Specialty Pharmaceuticals
EZCORP, Inc.
EZPW
Buck, Scott
Consumer Finance
Fabrinet
FN
Kang, Dave
Optical Components
Farmer Bros. Co.
FARM
Anderson, CFA, Kara
Food & Beverage
Farmland Partners Inc.
FPI
Kucera, Craig
Equity REITs
Federal National Mortgage Association
FNMA
Binner, Randy
Mortgage
Fidus Investment Corporation
FDUS
Hayes, Tim
Specialty Finance
First Busey Corporation
BUSE
Moss, Steve
Banks & Thrifts
First Commonwealth Financial Corp.
FCF
Moss, Steve
Banks & Thrifts
First Foundation Inc.
FFWM
Moss, Steve
Banks & Thrifts
Flagstar Bancorp, Inc.
FBC
Moss, Steve
Banks & Thrifts
Foot Locker, Inc.
FL
Anderson, CFA, Susan

Specialty Retail & Apparel
FormFactor, Inc.
FORM
Ellis, Craig A.
Semi Capital Equipment
Fortress Biotech, Inc.
FBIO
Mamtani, Mayank
Biotech
Fortress Transportation & Infrastructure
FTAI
Buck, Scott
Specialty Finance
Franchise Group, Inc.
FRG
Buck, Scott
Special Situations
Franklin Covey Co.
FC
Cummins, Zach
Information & Technology Services
Franklin Street Properties Corp.
FSP
Kucera, Craig
Equity REITs
Freddie Mac
FMCC
Binner, Randy
Mortgage
Freeport-McMoRan Inc.
FCX
Pipes, CFA, Lucas N.
Metals & Mining
G-III Apparel Group, Ltd.
GIII
Anderson, CFA, Susan
Specialty Retail & Apparel
Gaia, Inc.
GAIA
Wold, CFA, Eric
Media & Entertainment
GAIN Capital Holdings, Inc.
GCAP
Sharma, Raj
Financial Technology
Galectin Therapeutics Inc.
GALT
Mamtani, Mayank
Biotech
Galmed Pharmaceuticals Ltd.
GLMD
Mamtani, Mayank
Biotech
GAN Limited
GAN
Nichols, CFA, Josh
Software
The Gap, Inc.
GPS
Anderson, CFA, Susan
Specialty Retail & Apparel
GasLog Partners LP
GLOP
Burke, Liam
Master Limited Partnerships

GCI Liberty, Inc.
GLIBA
Silver, CFA, Zack
Communications
Genco Shipping & Trading Limited
GNK
Burke, Liam
Shipping
Genfit SA
GNFT
Mamtani, Mayank
Biotech
Gentex Corporation
GNTX
Nichols, CFA, Josh
Automotive
Geron Corporation
GERN
D'Silva, Andrew
Biotech
Gladstone Commercial Corporation
GOOD
Kucera, Craig
Equity REITs
Gladstone Land Corporation
LAND
Kucera, Craig
Equity REITs
Global Medical REIT, Inc.
GMRE
Maher, Bryan
Healthcare REITs
Global Net Lease, Inc.
GNL
Maher, Bryan
Specialty REITs
Global Ship Lease, Inc.
GSL
Burke, Liam
Shipping
Golar LNG Limited
GLNG
Burke, Liam
Shipping
Golar LNG Partners L.P.
GMLP
Burke, Liam

Master Limited Partnerships
GP Strategies Corporation
GPX
Cummins, Zach
Information & Technology Services
Granite Construction Incorporated
GVA
Rygiel, Alex
Engineering & Construction
Great Ajax Corp.
AJX
Hayes, Tim
Specialty Finance
Guess?, Inc.
GES
Anderson, CFA, Susan
Specialty Retail & Apparel
Hallador Energy Company
HNRG
Pipes, CFA, Lucas N.
Coal
Hanesbrands Inc.
HBI
Anderson, CFA, Susan
Specialty Retail & Apparel
Hannon Armstrong
HASI
Souther, CFA, Christopher
Sustainable Energy & Technology
Harrow Health, Inc.
HROW
D'Silva, Andrew
Specialty Pharmaceuticals
HC2 Holdings, Inc.
HCHC
Sherbetchyan, Sarkis
Producer Manufacturing
Helmerich & Payne, Inc.
HP
Curran, CFA, Thomas
Oilfield Services
Hercules Capital, Inc.
HTGC
Hayes, Tim
Specialty Finance
Hersha Hospitality Trust
HT
Maher, Bryan
Lodging
Hoegh LNG Partners LP
HMLP
Burke, Liam
Master Limited Partnerships
HomeStreet, Inc.
HMST
Moss, Steve
Banks & Thrifts

Horizon Technology Finance Corp.
HRZN
Hayes, Tim
Specialty Finance
Ichor Holdings, Ltd.

ICHR
Ellis, Craig A.
Semi Capital Equipment

iHeartMedia, Inc.
IHRT
Silver, CFA, Zack
Media & Entertainment
II-VI Incorporated
IIVI
Kang, Dave
Optical Components
IMAX Corporation
IMAX
Wold, CFA, Eric
Media & Entertainment
IMV, Inc.
IMV-US
Mamtani, Mayank
Biotech
Independence Contract Drilling, Inc.
ICD
Curran, CFA, Thomas
Oilfield Services
Industrial Logistics Properties Trust
ILPT
Maher, Bryan

Specialty REITs
Infinera Corporation
INFN
Kang, Dave
Communications
Infinity Pharmaceuticals, Inc.
INFI
D'Silva, Andrew
Biotech
Inphi Corporation
IPHI
Kang, Dave
Optical Components
Insight Enterprises, Inc.
NSIT
Wiesenberger, CFA, Marc
Information & Technology Services
Intellicheck, Inc.
IDN
Buck, Scott
Financial Technology
Intercept Pharmaceuticals, Inc.
ICPT
Mamtani, Mayank
Biotech
InterDigital, Inc.
IDCC
Wold, CFA, Eric
Electronic Components
International Seaways, Inc.
INSW
Burke, Liam
Shipping
Intevac, Inc.
IVAC
Ellis, Craig A.
Semi Capital Equipment
IntriCon Corporation
IIN
D'Silva, Andrew
Medical Technology
Invitation Homes, Inc.
INVH
Rygiel, Alex
Single-Family REITs
Iteris, Inc.
ITI
Van Sinderen, Jeff
Electronic Components
James River Group Holdings, Ltd.
JRVR
Binner, Randy
Insurance
JELD-WEN Holding, Inc.
JELD
Rygiel, Alex
Building Materials
Jernigan Capital, Inc.
JCAP
Hayes, Tim
Specialty Finance
The Joint Corp.
JYNT
Van Sinderen, Jeff
Services

Koppers Holdings Inc.
KOP
Burke, Liam
Specialty Industrials & Materials
Kratos Defense & Security Solutions, Inc.
KTOS
Crawford, Mike
Aerospace & Defense
Kulicke and Soffa Industries, Inc.
KLIC
Ellis, Craig A.
Semi Capital Equipment
L Brands, Inc.
LB
Anderson, CFA, Susan
Specialty Retail & Apparel
L.B. Foster Company
FSTR
Rygiel, Alex
Producer Manufacturing
Ladder Capital Corp.
LADR
Hayes, Tim
Specialty Finance
Lam Research Corporation
LRCX
Ellis, Craig A.
Semi Capital Equipment
Landmark Infrastructure Partners LP
LMRK
Burke, Liam
Specialty Industrials & Materials
Legacy Housing Corporation
LEGH
Rygiel, Alex
Homebuilders

Liberty Media Group
FWONK
Silver, CFA, Zack
Media & Entertainment
Liberty Oilfield Services Inc.
LBRT
Curran, CFA, Thomas
Oilfield Services
LightPath Technologies, Inc.
LPTH
Wiesenberger, CFA, Marc
Optical Components
Limelight Networks, Inc.
LLNW
Krowl, Lee
Internet
Lincoln Educational Services Corporation
LINC
Sharma, Raj
Education Services
Lincoln National Corporation
LNC
Binner, Randy
Insurance
LiqTech International, Inc.
LIQT
Burke, Liam
Shipping
LivePerson, Inc.
LPSN
Cummins, Zach
Software
lululemon athletica inc.
LULU
Anderson, CFA, Susan
Specialty Retail & Apparel
Lumentum Holdings, Inc.
LITE
Kang, Dave
Optical Components
Luna Innovations Incorporated
LUNA
Kang, Dave
Optical Components
Luxfer Holdings Plc
LXFR
Sherbetchyan, Sarkis
Specialty Industrials & Materials
Madrigal Pharmaceuticals, Inc.
MDGL
Mamtani, Mayank
Biotech
Magnite, Inc.
MGNI
Krowl, Lee
Internet
Maiden Holdings, Ltd.
MHLD
Binner, Randy
Insurance
Malibu Boats, Inc.
MBUU
Wold, CFA, Eric
Outdoor Leisure
The Marcus Corporation
MCS
Wold, CFA, Eric
Media & Entertainment
Marine Products Corporation
MPX
Wold, CFA, Eric
Outdoor Leisure
MarineMax, Inc.
HZO
Wold, CFA, Eric
Outdoor Leisure
Marvell Technology Group Ltd.
MRVL
Ellis, Craig A.
Semiconductor
MasTec, Inc.
MTZ
Rygiel, Alex
Specialty Contracting
MasterCraft Boat Holdings, Inc.
MCFT
Wold, CFA, Eric
Outdoor Leisure
Matthews International Corporation
MATW
Burke, Liam
Specialty Industrials & Materials
Medallion Financial Corp.
MFIN
Buck, Scott
Specialty Finance
MediciNova, Inc.

MNOV
Mamtani, Mayank
Biotech
Medifast, Inc.
MED
Anderson, CFA, Kara
Consumer Products
Mesa Air Group, Inc.
MESA
Buck, Scott
Diversified Industrials
Meta Financial Group, Inc.
CASH
Moss, Steve
Banks & Thrifts
MGIC Investment Corporation
MTG
Binner, Randy
Mortgage
Microchip Technology, Inc.
MCHP
Ellis, Craig A.
Semiconductor
Mogo Inc.
MOGO
Buck, Scott
Financial Technology
Monmouth Real Estate Investment Corp.
MNR
Kucera, Craig
Equity REITs
Monroe Capital Corporation
MRCC
Hayes, Tim
Specialty Finance
Motorcar Parts of America, Inc.
MPAA
Sherbetchyan, Sarkis
Automotive
MTBC, Inc.
MTBC
Wiesenberger, CFA, Marc
Information & Technology Services
National CineMedia, Inc.
NCMI
Wold, CFA, Eric
Media & Entertainment
National General Holdings Corp.
NGHC
Binner, Randy
Insurance
National Retail Properties, Inc.
NNN
Kucera, Craig
Equity REITs
NeoPhotonics Corporation
NPTN
Kang, Dave
Optical Components
Net 1 UEPS Technologies, Inc.
UEPS
Buck, Scott
Financial Technology
New Residential Investment Corp.
NRZ
Hayes, Tim
Specialty Finance
New York Community Bancorp, Inc.
NYCB
Moss, Steve
Banks & Thrifts
Nexstar Media Group, Inc.
NXST
Silver, CFA, Zack
Media & Entertainment
NGM Biopharmaceuticals, Inc.
NGM
Mamtani, Mayank
Biotech
NMI Holdings, Inc.
NMIH
Binner, Randy
Mortgage
Nordic American Tankers Limited
NAT
Burke, Liam
Shipping
Northwest Bancshares, Inc.
NWBI
Moss, Steve
Banks & Thrifts
NOVAGOLD RESOURCES INC.
NG-US
Pipes, CFA, Lucas N.
Metals & Mining
Novavax, Inc.
NVAX
Mamtani, Mayank
Biotech
Office Properties Income Trust
OPI
Maher, Bryan
Specialty REITs
ON Semiconductor Corporation
ON
Ellis, Craig A.
Semiconductor
One Liberty Properties, Inc.
OLP
Kucera, Craig
Equity REITs
Onto Innovation Inc.
ONTO
Ellis, Craig A.
Semi Capital Equipment
Ooma, Inc.
OOMA
Nichols, CFA, Josh
Communications
Opera Ltd.
OPRA
Krowl, Lee
Software
OptimizeRx Corporation
OPRX
D'Silva, Andrew
Service & Technology
Orbital Energy Group, Inc.
OEG
Burke, Liam
Specialty Industrials & Materials
Orion Energy Systems, Inc.
OESX
Wiesenberger, CFA, Marc
Building Materials
Orion Group Holdings, Inc.
ORN
Rygiel, Alex
Engineering & Construction
OSI Systems, Inc.
OSIS
Nichols, CFA, Josh
Electronic Components
Oxford Industries, Inc.
OXM
Anderson, CFA, Susan
Specialty Retail & Apparel
Park-Ohio Holdings Corp.
PKOH
Sherbetchyan, Sarkis
Automotive
PCTEL, Inc.
PCTI
Wiesenberger, CFA, Marc
Communications
Peabody Energy Corporation
BTU
Pipes, CFA, Lucas N.
Coal
Peoples Bancorp Inc.
PEBO
Moss, Steve
Banks & Thrifts
PFSweb, Inc.
PFSW
Anderson, CFA, Kara
Information & Technology Services
Physicians Realty Trust
DOC
Kucera, Craig
Equity REITs
Plug Power Inc.
PLUG
Souther, CFA, Christopher
Sustainable Energy & Technology
Postal Realty Trust, Inc.
PSTL
Kucera, Craig
Equity REITs
Preferred Bank
PFBC
Moss, Steve
Banks & Thrifts
PRGX Global, Inc.
PRGX
Cummins, Zach
Software
Progressive Corporation
PGR
Binner, Randy
Insurance
ProPetro Holding Corp.
PUMP
Curran, CFA, Thomas
Oilfield Services
Prudential Financial, Inc.
PRU
Binner, Randy

Insurance

Purple Innovation, Inc.
PRPL
Anderson, CFA, Susan
Specialty Retail & Apparel
QAD, Inc.
QADA
Cummins, Zach
Software
Quanta Services, Inc.
PWR
Rygiel, Alex
Specialty Contracting
Quantum Corporation
QMCO
Ellis, Craig A.
Enterprise Hardware
Radian Group Inc.
RDN
Binner, Randy
Mortgage
Ramaco Resources, Inc.
METC
Pipes, CFA, Lucas N.
Coal
Ranger Energy Services, Inc.
RNGR
Curran, CFA, Thomas
Oilfield Services
RCM Technologies, Inc.
RCMT
Rygiel, Alex
Specialty Contracting
Ready Capital
RC
Hayes, Tim
Specialty Finance
The RealReal, Inc.
REAL
Anderson, CFA, Susan
Specialty Retail & Apparel
Rekor Systems, Inc.
REKR
Cummins, Zach
Software
Revolve Group, Inc.
RVLV
Anderson, CFA, Susan
Specialty Retail & Apparel
RF Industries, Ltd.
RFIL
Nichols, CFA, Josh
Electronic Components
RLI Corp.
RLI
Binner, Randy
Insurance
The RMR Group Inc.
RMR
Maher, Bryan
Lodging
Rogers Corporation
ROG
Ellis, Craig A.
Electronic Components
S&W Seed Company
SANW
Sherbetchyan, Sarkis
Process Industries
Saratoga Investment Corp.
SAR
Hayes, Tim
Specialty Finance
Saul Centers, Inc.
BFS
Kucera, Craig
Equity REITs
Scorpio Bulkers Inc.
SALT
Burke, Liam
Shipping
Scorpio Tankers Inc.
STNG
Burke, Liam
Shipping
Seacoast Banking Corp. of Florida
SBCF
Moss, Steve
Banks & Thrifts
SeaWorld Entertainment, Inc.
SEAS
Wold, CFA, Eric
Outdoor Leisure
Select Energy Services, Inc.
WTTR
Curran, CFA, Thomas
Oilfield Services
Select Interior Concepts, Inc.
SIC
Rygiel, Alex
Building Materials
Semler Scientific, Inc.
SMLR
Nichols, CFA, Josh
Medical Technology
Semtech Corp.
SMTC
Ellis, Craig A.
Semiconductor
Sequans Communications SA
SQNS
Ellis, Craig A.
Semiconductor
Service Properties Trust
SVC
Maher, Bryan

Lodging
ServiceSource International, Inc.
SREV
Cummins, Zach
Software
SFL Corporation Limited
SFL
Burke, Liam
Shipping
Shenandoah Telecommunications Co.
SHEN
Silver, CFA, Zack
Communications
ShotSpotter, Inc.
SSTI
Cummins, Zach
Software
Silicon Motion Technology Corp.
SIMO
Ellis, Craig A.
Semiconductor
Sinclair Broadcast Group, Inc.
SBGI
Silver, CFA, Zack
Media & Entertainment
Sirius XM Holdings Inc.
SIRI
Silver, CFA, Zack
Media & Entertainment
Six Flags Entertainment Corporation
SIX
Wold, CFA, Eric
Outdoor Leisure
Skechers U.S.A., Inc.
SKX
Anderson, CFA, Susan
Specialty Retail & Apparel
Skyworks Solutions, Inc.
SWKS
Ellis, Craig A.
Semiconductor
Smart Sand, Inc.
SND
Curran, CFA, Thomas
Pipes, CFA, Lucas N.
Metals & Mining
Smith Micro Software, Inc.
SMSI
Nichols, CFA, Josh
Software
SMTC Corporation
SMTX
Crawford, Mike
Electronics Manufacturing Services
Solaris Oilfield Infrastructure, Inc.
SOI
Curran, CFA, Thomas
Oilfield Services
Sonim Technologies, Inc.
SONM
Silver, CFA, Zack
Communications
Spark Networks SE
LOV
Anderson, CFA, Kara
Internet
Spectrum Pharmaceuticals, Inc.
SPPI
Mamtani, Mayank
Specialty & Biopharma
Spring Bank Pharmaceuticals
SBPH
Mamtani, Mayank
Biotech

SRAX, Inc.

SRAX
Crawford, Mike

Information & Technology Services
StarTek, Inc.
SRT
Cummins, Zach
Information & Technology Services
Starwood Property Trust, Inc.
STWD
Hayes, Tim
Specialty Finance
Sterling Bancorp
STL
Moss, Steve
Banks & Thrifts
Steven Madden, Ltd.
SHOO
Anderson, CFA, Susan
Specialty Retail & Apparel
SunCoke Energy, Inc.
SXC
Pipes, CFA, Lucas N.
Metals & Mining
Taylor Morrison Home Corporation
TMHC
Rygiel, Alex
Homebuilders
Teck Resources Limited
TECK.B-CA
Pipes, CFA, Lucas N.
Metals & Mining
Tecnoglass Inc.
TGLS
Rygiel, Alex
Building Materials
Telenav, Inc.
TNAV
Nichols, CFA, Josh

Software
Telephone and Data Systems, Inc.
TDS
Silver, CFA, Zack
Communications
TG Therapeutics, Inc.
TGTX
Mamtani, Mayank
Biotech
Tilly's, Inc.
TLYS
Van Sinderen, Jeff
Specialty Retail & Apparel
Transcat, Inc.
TRNS
Buck, Scott
Industrial Technologies
TravelCenters of America LLC
TA
Maher, Bryan
Lodging
Trecora Resources
TREC
Sherbetchyan, Sarkis
Process Industries
Trex Company, Inc.
TREX
Rygiel, Alex
Building Materials
TRI Pointe Group, Inc.
TPH
Rygiel, Alex
Homebuilders
TriState Capital Holdings, Inc.
TSC
Moss, Steve
Banks & Thrifts
Triumph Bancorp, Inc.
TBK
Moss, Steve
Banks & Thrifts
TrueCar, Inc.
TRUE
Krowl, Lee
Internet
TTM Technologies, Inc.
TTMI
Crawford, Mike
Technology
Turning Point Brands, Inc.
TPB
Anderson, CFA, Susan
Consumer Staples
Tutor Perini Corporation
TPC
Rygiel, Alex
Engineering & Construction
U.S. Silica Holdings, Inc.
SLCA
Curran, CFA, Thomas
Pipes, CFA, Lucas N.
Oilfield Suppliers
UMH Properties, Inc.
UMH
Kucera, Craig
Equity REITs
Under Armour, Inc.
UAA
Anderson, CFA, Susan
Specialty Retail & Apparel
United States Cellular Corporation
USM
Silver, CFA, Zack
Communications
Universal Electronics Inc.
UEIC
Van Sinderen, Jeff
Electronic Components
Universal Technical Institute, Inc.
UTI
Sharma, Raj
Education Services
Urban Outfitters, Inc.

URBN
Anderson, CFA, Susan
Specialty Retail & Apparel
Urstadt Biddle Properties Inc.
UBA
Kucera, Craig
Equity REITs
USA Compression Partners, LP
USAC
Curran, CFA, Thomas
Oilfield Services
Vaxart, Inc.
VXRT
Mamtani, Mayank
Biotech
Verso Corporation
VRS
Van Sinderen, Jeff
Process Industries
Viasat, Inc.
VSAT
Crawford, Mike
Communications
Viavi Solutions Inc.
VIAV
Kang, Dave
Communications
Victory Capital Holdings, Inc.
VCTR
Binner, Randy
Asset Managers
ViewRay, Inc.
VRAY
D'Silva, Andrew
Medical Technology
Viking Therapeutics, Inc.
VKTX
Mamtani, Mayank
Biotech
Vishay Precision Group, Inc.
VPG
Sherbetchyan, Sarkis
Electronic Components
Vista Outdoor Inc.
VSTO
Wold, CFA, Eric
Outdoor Leisure
Waitr Holdings, Inc.
WTRH
Van Sinderen, Jeff
Food & Beverage
Warrior Met Coal, Inc.
HCC
Pipes, CFA, Lucas N.
Coal
WesBanco, Inc.
WSBC
Moss, Steve
Banks & Thrifts
WhiteHorse Finance, Inc.
WHF
Hayes, Tim
Specialty Finance
Whitestone REIT
WRS
Kucera, Craig
Equity REITs
WideOpenWest, Inc.
WOW
Silver, CFA, Zack
Communications
WidePoint Corporation
WYY
Crawford, Mike
Information & Technology Services
Wolverine World Wide, Inc.
WWW
Anderson, CFA, Susan
Specialty Retail & Apparel
W International, Inc.
WW
Anderson, CFA, Kara
Consumer Products
X4 Pharmaceuticals, Inc.
XFOR
Mamtani, Mayank
Biotech
Xenia Hotels & Resorts, Inc.
XHR
Maher, Bryan
Lodging
XPEL, Inc.
XPEL
Van Sinderen, Jeff
Process Industries
Xperi Holding Corporation
XPER
Wold, CFA, Eric
Consumer Electronics
Zions Bancorporation
ZION
Moss, Steve
Zumiez Inc.
ZUMZ
Van Sinderen, Jeff
Specialty Retail & Apparel