B. Riley + National: Building a Best-in-Class Financial Solutions Platform
B. Riley Financial Acquires National Holdings Corporation
"This merger creates a world-class wealth management platform under B. Riley Financial. We could not be more excited to welcome National's professionals to B. Riley as we continue to enhance our combined platform." - Bryant Riley, Chairman and Co-Chief Executive Officer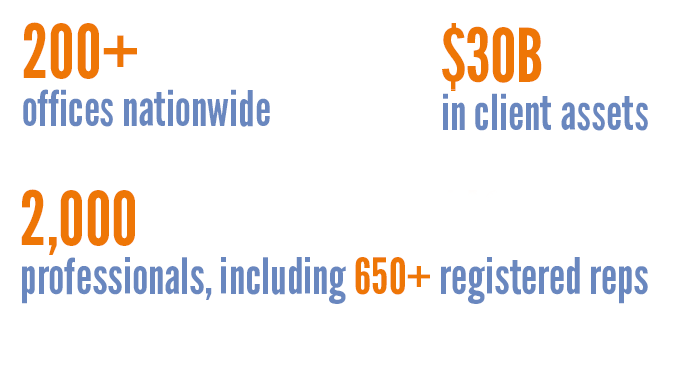 - This powerful combination provides significant synergies and benefits our clients through an enhanced platform*
*National Holdings Corporation is now a wholly-owned subsidiary of B. Riley Financial, Inc. National Securities and National Asset Management will continue to operate independently and, therefore, clients will not see a change to their accounts as a result of the acquisition.
NATIONAL COVERAGE
Geographically, both firms have a synergistic footprint with offices now expanding from coast to coast.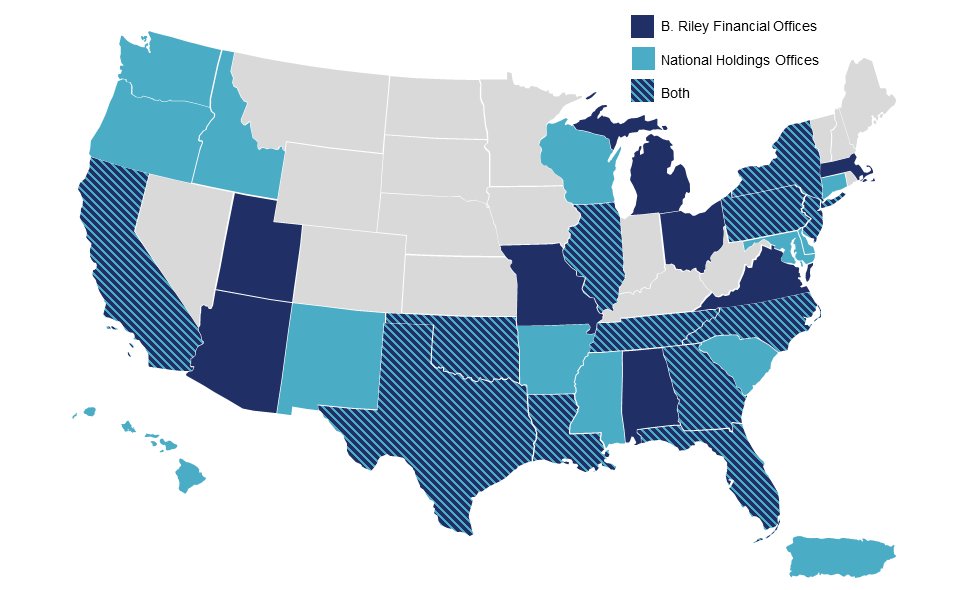 Enhanced Platform - Diverse Business Capabilities
The combination enhances all businesses through diversified product offerings and access to a broader suite of investment solutions for clients.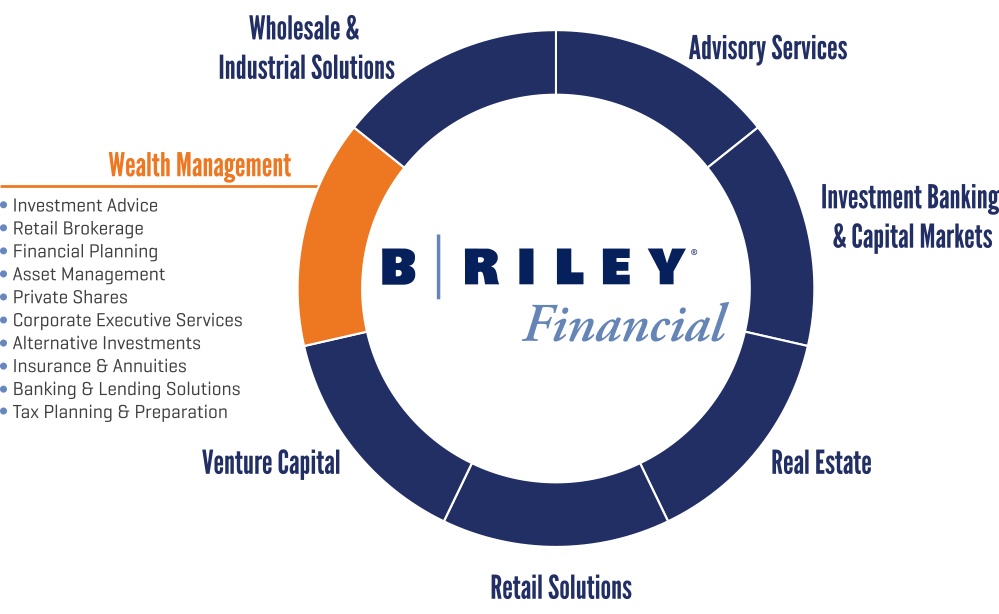 Wealth Management – A Powerful Nationwide Footprint
Clients will now have greater access to B. Riley's and National's complementary wealth management businesses. Our combination results in a more powerful national footprint with offices from coast to coast. B. Riley's wealth management business is significantly augmented by National's tax planning and preparation services. Click here to learn more about National's advisory, tax and accounting services.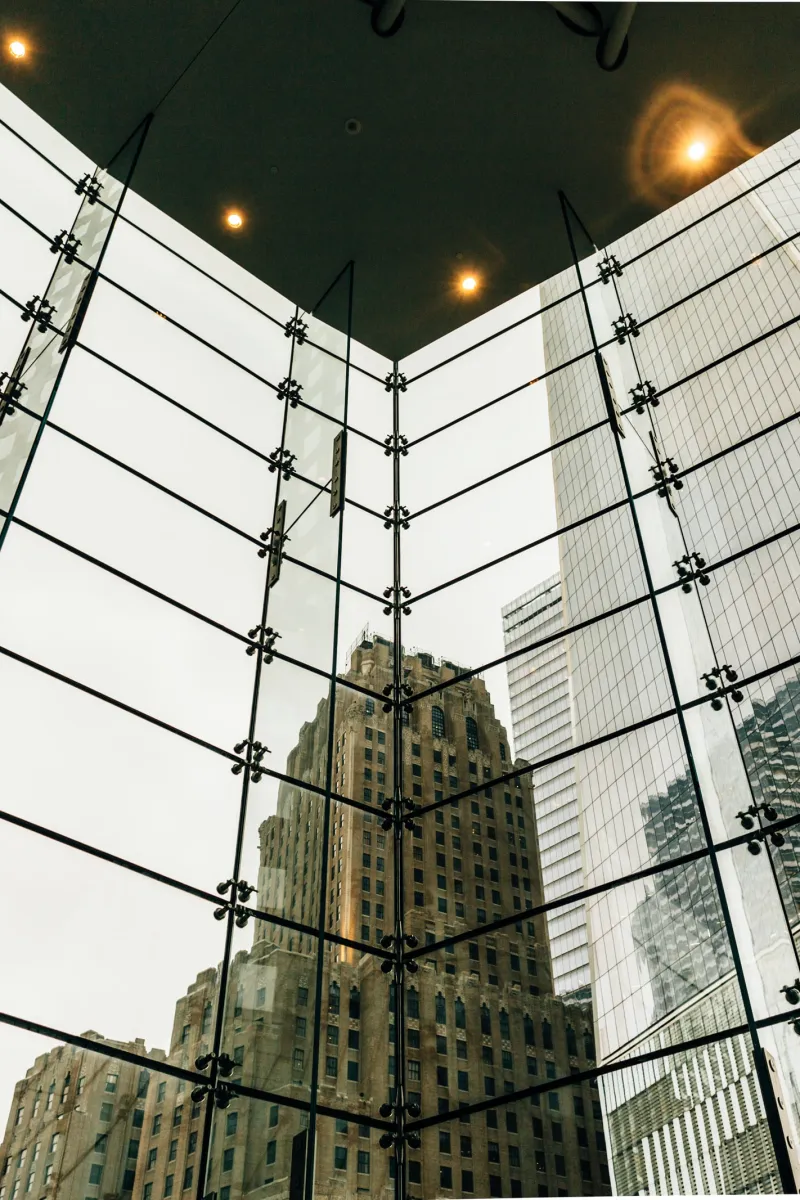 Investment Banking & Capital Markets – Capital Creation and Innovative Investment Opportunities
B. Riley Securities' and National Securities' respective brokerages offer unique capital markets offerings along with a sizeable distribution network that increases scale and creates greater opportunities to serve individual and institutional clients. This merger brings together the expertise of two boutique middle-market investment banking organizations. The combination forms a powerful brokerage platform, enhanced by B. Riley's award-winning equity research and National's exclusive private shares offerings - all powered by cutting-edge technology. Click here to learn more about National Securities.

About B. Riley Financial
B. Riley Financial ("B. Riley") provides collaborative solutions tailored to fit the capital raising and business advisory needs of its clients and partners and is ranked #2 on Fortune's 100 fastest-growing companies 2021. B. Riley operates through several subsidiaries that offer a diverse range of complementary end-to-end capabilities spanning investment banking and institutional brokerage, private wealth and investment management, financial consulting, real estate solutions, corporate restructuring, operations management, risk and compliance, due diligence, forensic accounting, litigation support, appraisal and valuation, auction and liquidation services. B. Riley is headquartered in Los Angeles with offices across the U.S. as well as an international presence. For more information, please visit www.brileyfin.com.
©2021 Fortune Media IP Limited. All rights reserved. Used under license.
About National Holdings
National Holdings Corporation is a full-service investment banking and asset management firm that, through its affiliates, provides a range of services, including independent and employee-managed retail brokerage and advisory services, investment banking, institutional sales and trading, equity research, financial planning, market making, tax preparation and insurance to corporations, institutions, high net-worth and retail investors. With over 1,000 advisors, registered representatives, traders, sales associates and corporate staff, National Holdings operates through various subsidiaries including National Securities Corporation, National Asset Management, Inc., National Insurance Corporation, National Tax and Financial Services, Inc. (formerly Gilman Ciocia, Inc.), GC Capital Corporation, the Winslow, Evans & Crocker entities and the United Advisors entities. Formed as a holding company in 1996, National Holdings' largest subsidiary, National Securities Corporation, has been in business since 1947. National Holdings is headquartered in New York and Florida. For more information, visit www.yournational.com.

Contacts
B. Riley Wealth and National clients should direct their questions to their financial advisors:
B. Riley Wealth Financial Professional Directory: click here
National Financial Professional Directory: click here
For National Shareholders:
National shareholders may contact the following agents in relation to the tender offer:
Information Agent:
Innisfree M&A Incorporated
Requests for documents may be directed to Innisfree by telephone at (212) 750-5833 (banks and brokers) or (888) 750-5834
Depositary:
Computershare Trust Company, N.A.
(800) 546-5141
IR:
Mike Frank
ir@brileyfin.com
(212) 409-2424
Media:
Jo Anne McCusker
press@brileyfin.com
(646) 885-5425